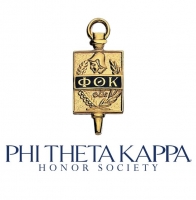 Avie Etheridge-All-Alabama Academic Team Member and Most Outstanding Leader on Monroeville campus
Neveah Hurst-Most Outstanding Leader and Scholar on Thomasville campus
Kaylee Knight-Most Outstanding Scholar on Monroeville campus
Thomas Lauderdale-Most Outstanding Scholar for Associate in Applied Science
Phi Theta Kappa, two-year college presidents, and community college state associations co-sponsor All-State Academic Team recognition programs in 32 states. Each two-year college in Alabama may nominate two students from each campus to the All-USA Academic Team. Nominations are based on outstanding academic performance and service to the college and community. Students are selected through a highly competitive application process that highlights their academic, leadership, and service achievements. There were numerous deserving candidates this year; however, only two students from each institution can be chosen as All-Alabama Members as part of the All-USA Academic Team Competition. This year's All-USA Academic Team nominees for Thomasville and Monroeville campuses are Avie Etheridge, Nevaeh Hurst, Kaylee Knight, and Teagan Young.
Avie Etheridge was selected as an All-Alabama Academic Team member and was honored during a virtual awards ceremony on April 23. She earned a $1000 scholarship and an awards packet for her efforts.
Another competitive award is the Most Outstanding Leader eagle. This is a prestigious award honoring a student is based on applicants who the faculty and staff select. Criteria for selection include, but is not restricted to, at least a 3.00 G.P.A., leadership, character, sportsmanship, and cit­izenship.
Avie Etheridge is also the Most Outstanding Leader for Monroeville campus and has maintained a 4.0 G.P.A. She is a Coca-Cola Leaders of Promise Scholar and has earned academic awards in English, macroeconomics, and World History II. In addition to her academic achievements, Etheridge has served as Phi Theta Kappa President, President of Ambassadors, Student Government Association Vice President, and Circle K Secretary and Treasurer.
Etheridge says, "A verse I live by is Colossians 3:23, 'Whatever you do, work at it with all your heart, as if working for the Lord and not for men.' No matter the task, I try to do my very best because I feel that it is not only my duty to myself but more importantly to God." Etheridge will attend Troy University in the fall.
Most Outstanding Leader on the Thomasville campus is Nevaeh Hurst. In addition to serving as Vice President of Phi Theta Kappa and as a member in the Kathyrn Tucker Windham Club, Hurst has tutored other students, helped with various service projects on campus and in the community, and earned Coca-Cola Leaders of Promise distinction as well. Hurst has also earned Most Outstanding Scholar Award for Thomasville campus and has maintained a 4.0 G.P.A. while juggling leadership responsibilities. She commented, "As a student, I work hard to learn, get good grades, and be a great scholar. It is the characteristic of discipline, taking responsibility, and working hard that have allowed me to excel in school and be where I am today. Every day, I am committed to developing a promising future for myself and the people I encounter in my lifetime." Hurst will attend the University of Alabama in Birmingham in the fall.
Students who have distinguished themselves with at least a 3.5 cumulative G.P.A. and who are outstanding in character and scholarship are candidates for the Most Outstanding Scholar eagle. The award is presented annually to an Associate in Arts/Associate in Science recipient and an Associate in Applied Science recipient.
This year's Most Outstanding Scholar for an Associate in Applied Science is Thomas Lauderdale. He has been on the Dean's and President's lists and is an active member Phi Theta Kappa and Eagle Ambassadors. Lauderdale is also a member of SGA. He said, "I am compassionate when it comes to investing in others and the community. Being dependable and willing to help is a rewarding experience. I enjoy a challenge and the reward of satisfaction once the task is complete." Lauderdale will join the workforce this summer.
This year's Most Outstanding Scholar for Monroeville campus in an Associate in Science is Kaylee Knight. She has earned academic awards in public speaking, English Composition I, and English Composition II while maintaining a 4.0 G.P.A. Knight is a Vice President in Phi Theta Kappa, President of Circle K International, and member of SGA. Knight stated, "Coastal Alabama Community College has been such an amazing experience. I have grown not only as a student in an academic setting, but I have also grown and flourished as an individual through campus involvement and the opportunities this institution has provided for me. I have developed both the soft and hard skills that are necessary to be successful in my future endeavors." Knight will attend Jacksonville State University in the fall.