Accreditation
Accreditation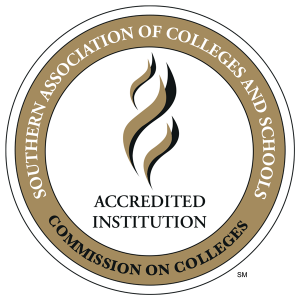 Coastal Alabama Community College is accredited by the Southern Association of Colleges and Schools Commission on Colleges (SACSCOC) to award the Associate degree. Coastal Alabama Community College also may offer credentials such as certificates and diplomas at approved degree levels. Questions about the accreditation of Coastal Alabama Community College may be directed in writing to the Southern Association of Colleges and Schools Commission on Colleges at 1866 Southern Lane, Decatur, Georgia 30033-4097, by calling (404) 679-4500, or by using information available on SACSCOC's website.
Coastal Alabama Community College has no branch campuses.
Additional Accreditations:
Accreditation Commission for Education in Nursing (ACEN)
3390 Peachtree Road NE, Suite 1400
Atlanta, GA 30326
404-975-5000
https://www.acenursing.org
American Dental Association (ADA);
Commission On Dental Accreditation (CODA) Dental Assisting Programs
211 E Chicago Avenue
Chicago, IL, 60611-2678
800-232-1608
https://coda.ada.org
America Culinary Federation Educational Institute
180 Center Place Way
St. Augustine, FL, 32095
800-624-9458
American Veternary Medical Associatation (AVMA) Committee on Veterinary Technician Education and Activities (CVTEA)
1931 North Meacham Road, Suite 100
Schaumburg, IL 6073-4360
800-248-2862
https://www.avma.org/education/center-for-veterinary-accreditation/accreditation-veterinary-technicians
Commission on Accreditation for Respiratory Care (CoARC); Pending
264 Precision Boulevard
Telford, TN 37690
817-283-2835
https://coarc.com
*Coastal Alabama Community College is currently in the process of seeking CoARC accreditation for the respiratory care program. However, Coastal Alabama Community College can provide no assurance that accreditation will be granted by the CoARC. Comment or complaints may be directed as stated above. CoARC accredits respiratory therapy educational programs in the United States. To achieve this end, it utilizes an "outcome based" process. Programmatic outcomes are performance indicators that reflect the extent to which the educational goals of the program are acheived and by which program effectiveness is documented. Outcomes information from all prgorams and program options accredited by the CoARC may be found at the following link.
Commission on Accreditation of Allied Health Education Programs (CAAHEP) – Medical Assisting; Pending
9355 113th Street North, #7709
Seminole, FL 33775
727-210-2350
https://www.maerb.org
Commission on Accreditation of Allied Health Education Programs (CAAHEP) – Paramedic
9355 113th Street North, #7709
Seminole, FL 33775
727-210-2350
https://www.caahep.org/committees-on-accreditation/emergency-medical-services-paramedic
Commission on Accreditation of Allied Health Education Programs (CAAHEP) – Surgical Technology Programs
9355 113th Street North, #7709
Seminole, FL 33775
727-210-2350
https://www.caahep.org/committees-on-accreditation/surgical-technology
National Acrediting Agency for Clinical Laboratory Sciences (NAACLS); Pending
5600 North River Road, Suite 720
Rosemont, IL 60018-5119
773-714-8886
https://www.naacls.org/about.aspx
Society for Simulation in Healthcare
P.O. Box 856114
Minneapolis, MN 55485
866-730-6127
https://www.ssih.org
Approval:
Alabama Board of Nursing
RSA Plaza, Suite 250
770 Washington Avenue
Montgomery, AL 36130-3900
334-293-5200
https://www.abn.alabama.gov
Alabama Department of Public Health Office of Emergency Medical Services
208 Legends COurt
Prattville, Alabama 36066
334-290-3088
https://www.alabamapublichealth.gov/ems/
Member:
ALABAMA COMMUNITY COLLEGE SYSTEM
ALABAMA COMMUNITY COLLEGE ASSOCIATION
AMERICAN ASSOCIATION OF COMMUNITY COLLEGES
AMERICAN COUNCIL ON EDUCATION
COUNCIL FOR ADVANCEMENT AND SUPPORT OF EDUCATION
Licensure:
COMMISSION FOR INDEPENDENT EDUCATION, DEPARTMENT OF EDUCATION
325 West Gaines St, Suite 1414
Tallahassee, FL, 32399-6400
800-224-6684
General Disclosures for Program Licensure - 34 CFR 668.43 (a)(5)(v)