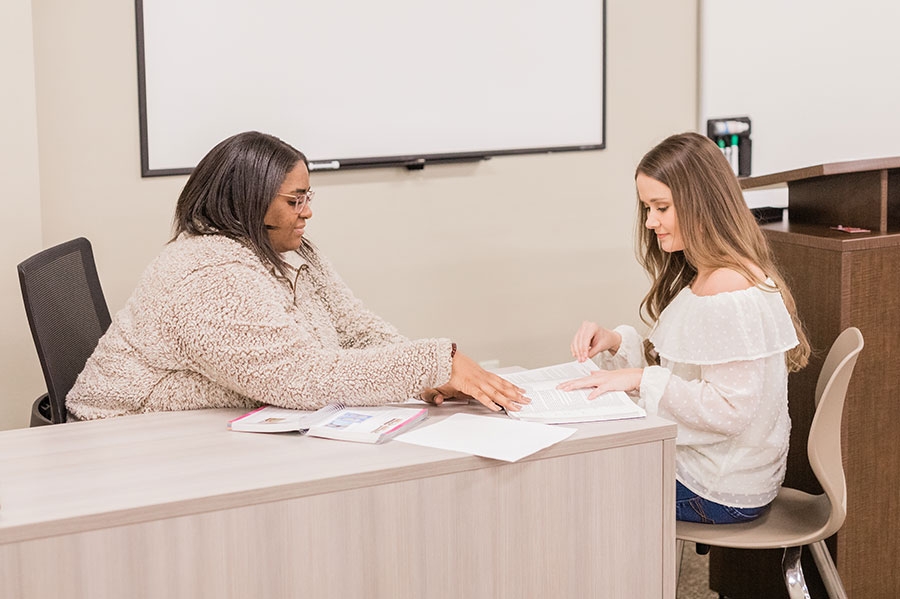 Advising
Everyone who takes charge of their life and career needs help along the way. Our Advising Team is here to help you prepare for your next steps at Coastal Alabama. 
Why Is Academic Advising Important? We believe that proper advising is both a responsibility and an opportunity for enhancing the student experience.
Only want online classes? Work full time? Have outside responsibilities? Ultimately, students are responsible for selecting courses, meeting requirements and adhering to College policy but at Coastal, we recognize that informed advice is necessary to identifying and making the best next step.
Who is my advisor? You are assigned an academic advisor based on your classification and program. You can find your assigned advisor in oneACCS. Beginning September 2022, all new students will be assigned a primary staff academic advisor who will assist students in navigating the first-year experience. After the first year, some students will transition to departmental advising while others will remain with staff advisors throughout their entire time at Coastal. This transition depends on major and program experience. Students can see their assigned advisor by accessing their oneACCS account.
When Should I See My Academic Advisor? We recommend you visit your academic advisor prior to registration opening so you can discuss the best plan for the upcoming semester and beyond. Tips to Succeed: Don't wait! Meet with your advisor as soon as the schedule is released so that you will be ready when registration opens. Monitor your progress through DegreeWorks in your oneACCS portal Maintain good academic standing each semester. Explore opportunities and available resources early in your academic career. Set realistic, obtainable academic and career goals.
What is Academic Advising?
Academic Advising is your opportunity to connect to staff and form a relationship with the College.
Academic Advising is process in place to help you make informed decisions at each stage of your Coastal Alabama journey by designating a time for students to ask questions about educational goals, course selections, academic performance, programs, College policies and procedures, and opportunities.
Academic Advising is a place where you can engage with staff/faculty, explore your options, and clarify your goals.
Academic Advising is an opportunity to create your personalized academic road map, leading to timely fulfillment of your goals.
How do I reach my advisor? Walk-ins are welcome but we encourage students make an appointment directly with their assigned advisor. This allows your advisor to prepare for the visit and it allows you to form a relationship with your assigned advisor. For your convenience, we currently offer in person or virtual appointments. Students are encouraged to seek advice and input from our faculty during posted office hours. Taking advantage of this opportunity has proven to be one of the largest indicators of student success. For general Academic Advising questions, we recommend using our ticketing system advising@coastalalabama.edu.