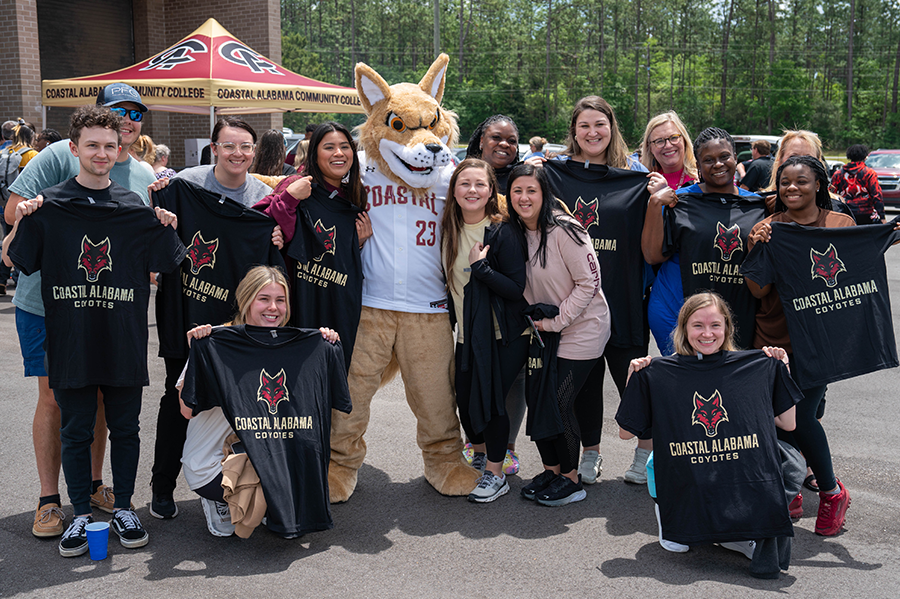 Camp Coyote New Student Orientation
Get ready to howl with excitement and join us for Camp Coyote! We're gearing up to equip you with everything you need to make your first semester at Coastal a roaring success. Our summer orientation sessions are the perfect way to unleash your potential and prepare you for life as a top-notch student at Coastal Alabama. We'll cover all the must-know info to help you conquer college life.
New Student Orientation is required for all first-time freshmen.
Are you a new student at Coastal Alabama?
Join us for Camp Coyote and get prepared for the Fall semester. Our summer orientation sessions will give you valuable information and help prepare you to be a student with Coastal Alabama. Some of the beneficial information covered at orientation will include:
An introduction to college life
Financial Aid information
Navigating your student account
Overview of our online learning system Canvas
Introduction to student activities and clubs
Campus Safety
Meet with an academic advisor
Assistance with course registration
Parents and Guests: Parents and guests will enjoy a separate agenda from their students once the initial presentation concludes. This session will include more topics that have more interest to you as a parent or guardian. The topics that will be covered are Financial Aid, Business Office, FERPA, ADA, Student Services, Resources, Best Practices, and more! Parents and guests will also participate in a question-and-answer discussion with some of our trained staff from specific departments. This session will run concurrently with the student session. Parents and Guests will meet back up with their students once orientation has concluded.
How to sign up for Camp Coyote?
Apply for admissions

Review the New Student Orientation dates and locations below

Check your email for a New Student Orientation invite and the follow steps in the email or log into your Application portal (you created your username and password for this at the time of application). If you choose to log into your portal to sign up, once logged in choose events then orientation, you can then select the date that works best for your schedule.

Register using the instructions in the email by choosing your desired location, date, and time.

Check your email for a confirmation email and monitor your inbox regularly for instructions leading up to your event date!
How to prepare for your Camp Coyote Session:
Make sure you apply for admissions prior to your arrival

.

Request copies of all official transcripts be sent to Coastal Alabama (high school/GED and previous colleges, if applicable). Your transcripts should be official and final, meaning they include final grades, GPA, and graduation date.

Send ACT scores to admissions@coastalalabama.edu; or schedule an Accuplacer placement test here.

Bring your student number and student email information with you to your session. You received this information via an email with the subject line: " Your Name, This is important!"