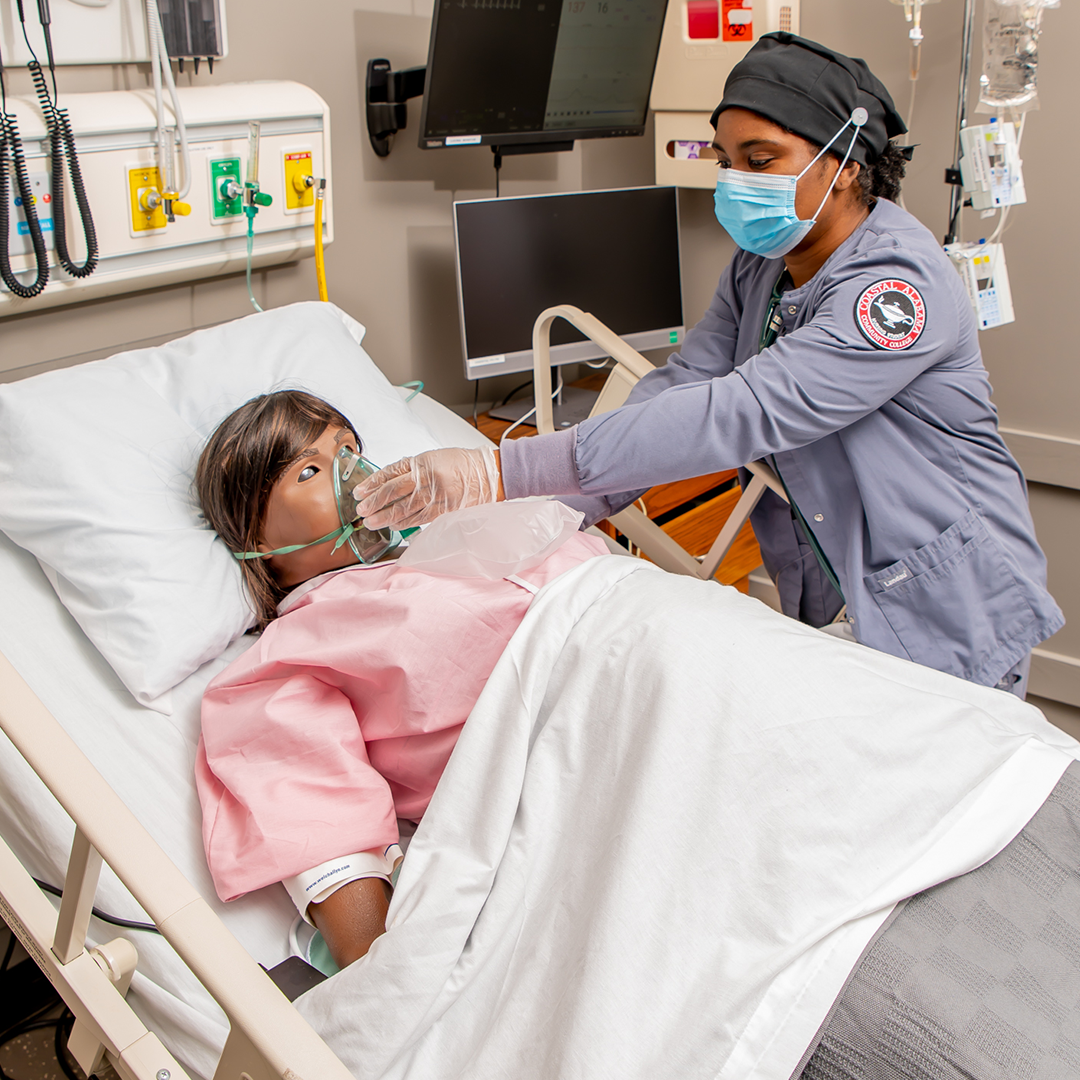 Alabama's community colleges are working with the Alabama Office of Apprenticeship, hospitals and healthcare employers to meet the high demand for nurses.
Starting today, new rules go into effect that allow healthcare employers to enter into an apprenticeship agreement with a sponsoring community college. Students who apply and are accepted as nurse apprentices serve as employees of the healthcare facility and work alongside an experienced nurse. Nurse apprentices can continue their employment by completing their apprenticeship and passing the National Council Licensure Examination (NCLEX) that certifies nurses.
The first cohort of the new nurse apprenticeship program will begin this summer at Coastal Alabama Community College and Gadsden State Community College. Additional sponsors and employers for the apprenticeship program will be accepted in the fall.
"This is another way we've aligned the training and education offered by Alabama's community colleges to meet the state's workforce needs," said Jimmy H. Baker, Chancellor of the Alabama Community College System. "You'll see the need for superb medical care within communities of all sizes in Alabama, and in those areas is also a community college that trains students to help meet those healthcare needs. Our colleges continue to build trust with every business and industry sector to secure and create opportunities for students to gain real-life work experience. This nursing apprenticeship is another means for employers who look to our colleges to gain willing employees who will be well-trained, both before and after completing a college program."
The Alabama Hospital Association welcomed the development of the nursing apprenticeships.
"Alabama's hospitals are grateful to Alabama's community colleges and the Alabama Board of Nursing for their efforts to help meet a significant need for additional hospital nurses," said Donald Williamson, MD, President of the Alabama Hospital Association. "Our hospitals look forward to working with their local colleges to provide hands-on experience and mentoring for these future nurses."
The nursing apprenticeships will help meet a high demand for nurses across Alabama. Nurses are listed as one of the top 25 highest demand positions in Alabama, with more than 4,500 annual openings in the state for RNs and LPNs.
"Good health care begins with highly trained and compassionate nurses," Alabama Nursing Home Association President and CEO Brandon Farmer said. "We're excited to see nurse apprenticeships begin because it will draw more people into Alabama's health care sector and will enhance the workforce development efforts of our association and its members. We will be active partners with the Alabama Office of Apprenticeship to help nursing homes employ and mentor nursing students."
More than 8,800 students were enrolled in registered nursing and licensed practical nursing programs at Alabama's community colleges last academic year. In that same time frame, a total of 3,150 students obtained a nursing credential.
Twenty-one of Alabama's 24 community colleges offer a nursing program.
"The opportunity for nurse apprentices to earn while they learn, to continue applying skills learned in class in a real work environment, and to extend time spent working with their preceptors, will positively impact the nursing industry's critical needs for recruitment and retention of highly prepared nurses," said Josh Laney, Director of the Alabama Office of Apprenticeship.
The Alabama Legislature approved amendments to the Nurse Practice Act last year to allow nursing apprenticeships in the state.