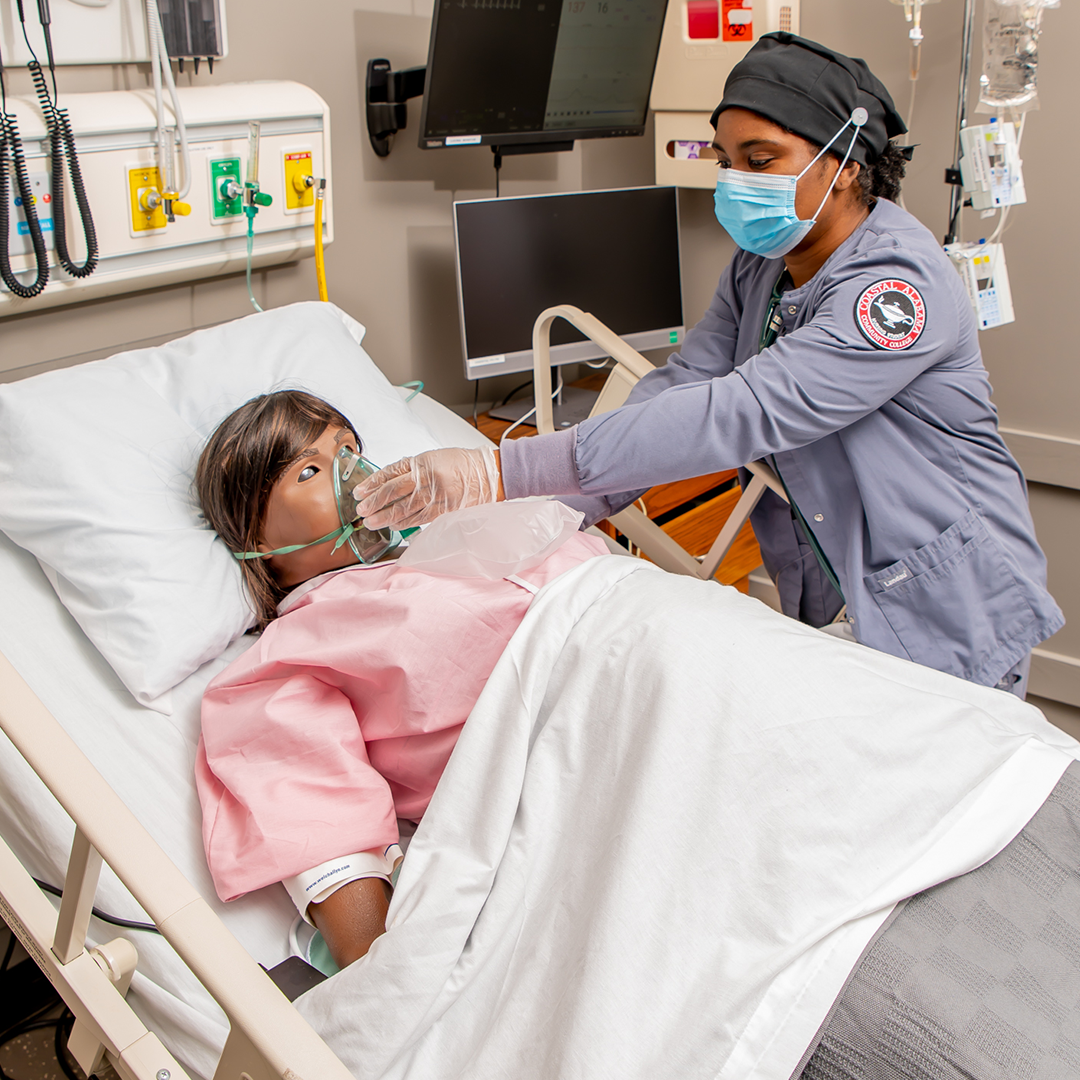 Coastal Alabama Community College's Practical Nursing Apprenticeship Program reached the end of its first year with 100 percent of enrollees passing their board exams and moving into jobs with Infirmary Health, the program's first "pioneer partner." The PN apprenticeship program is the first of its kind in the United States, and its success is not only a boon for the college, but the communities, students and healthcare partners it serves.
"The apprenticeship has proven very successful," said Dr. Tiffany Scarborough, Dean of Nursing and Allied Health. "Our students have persevered and succeeded in passing their boards, and the comfort they now have in their work environments is now a big part of the program's success."
Apprenticeships began during the summer 2022 cohort, and offered students enrolled in the practical nursing program the opportunity to gain real-world experience and earn while they learned. According to Scarborough, the earning potential was significant because it allowed students to stay focused and always gaining on-the-job experience, while being compensated for hundreds of hours of clinical work.
Fore example, instead of working a job "just to make ends meet," an associate degree nursing student seeking to become a registered nurse would be paid for every one of their more than 600 clinical hours. The goal of the apprenticeships was that there was no student debt left once it was completed.
"The students felt confident and comfortable with the nurses they were working with, who were not only their clinical instructors, but their coworkers as well," Scarborough said. "As a college, we're connecting students with potential employers, which is one way Coastal has broken new ground."
Nurses are listed as one of the top 25 highest-demand positions in Alabama, with more than 4,500 annual openings in the state for RNs and LPNs. At the end of the Spring 2023 semester, more than 100 Coastal Alabama Community College nursing students completed their pathways, with hundreds more currently enrolled.
"This is such a great recruiting tool, and it's starting to gain traction across the state," she said. "In today's economy and healthcare landscape, the earlier you can secure an employee the better."
The college also offers a variety of clinical pathways for students interested in careers in healthcare without becoming nurses. Three of the newer programs include the Medical Assistant Technology program which is taking place on the Bay Minette Campus, the Medical Laboratory Technology program which is currently looking for students to enroll on the Atmore campus, and the new Respiratory Therapy program on the Bay Minette campus, which is expected to begin in Spring 2024.