Continental Aerospace Technologies Donates Aircraft to CACC
Oct 13th, 2022 Featured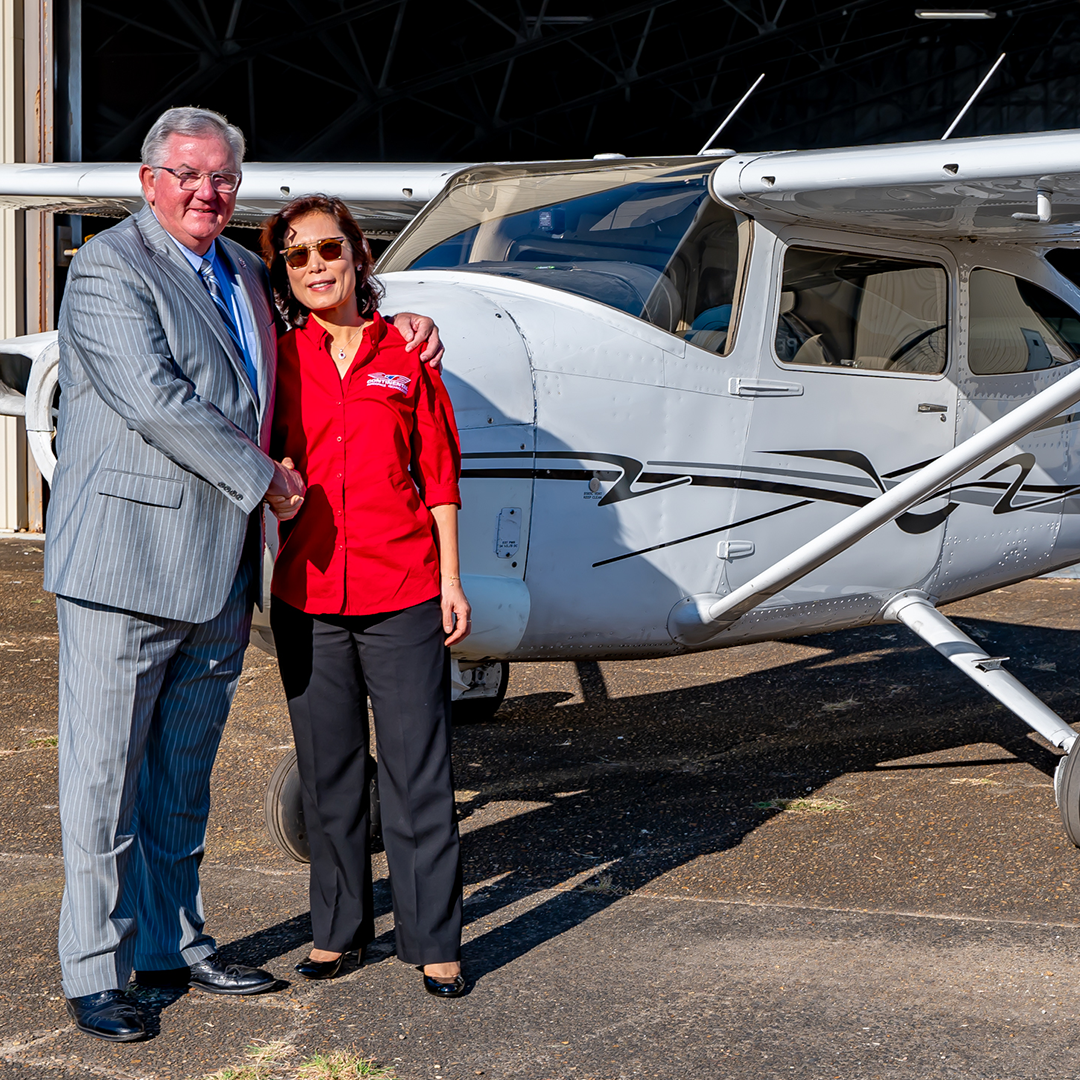 Coastal Alabama Community College's Alabama Aviation Center received two aircraft thanks to its partnership with Continental Aerospace Technologies, which is also based on the Brookley Aeroplex in Mobile.
The aircraft will be used by students in the college's Powerplant and Airframe Technology programs. The Alabama Aviation Center currently has an enrollment of about 250 students, and many will earn their certifications as aircraft mechanics and be employed by local companies such as Continental, which is a cornerstone of south Alabama's expanding aerospace industry.
"We certainly appreciate Continental's generosity, and any time we can get actual real airplanes for them to work on, it gets them that much closer to their certifications," said Dr. Craig Pouncey, President of Coastal Alabama Community College.
On Tuesday, October 11, Pouncey and faculty from the nearby Alabama Aviation Center took possession of one of the aircraft: a 1978 Cessna 182 fixed-wing airplane. With a piston engine installed, Pouncey said it would be even more beneficial to the aviation students who would soon remove and dismantle the plane's powerplant. A representative from Continental Aerospace Technologies towed the plane to its final destination, the Alabama Aviation Center's classroom hangar and lab.
The center's popularity has grown along with the need for certified aviation mechanics across the United States, and around the world. According to Karen Hong, Global CEO and President of Continental, there are 11.4 million open positions in the U.S. alone, and partnerships with institutions such as Coastal Alabama Community College are an absolute necessity to fill them.
"We are so happy to find a way to give back to the local community and school," Hong said. "They have trained great employees for Continental, and we are thrilled to witness the passions the Aviation Center's students have shared with us, and we welcome those students, once they are ready, to join our winning team at Continental."
The relationship between the college and Continental Aerospace Technologies is indicative of the hard work going on throughout its Workforce Development division, which offers a range of opportunities, including apprenticeships, credentials and career certificates.
"Over the last three years, Coastal Alabama has expanded its technical programs more than any other community college in the state," Pouncey said. "I'm very pleased with the commitment of our staff in the interests of our students, and our communities for supporting the expansion of their technical skills."