Ready to Work
Ready to Work's workplace environment provides students the entry-level skills required for employment with most businesses and industries in Alabama.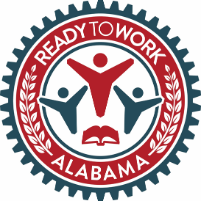 This course will be offered beginning right after our high school graduations in Baldwin County. Student will learn workplace technology, graphic literacy, financial competency and job search and interview skills. Successful completion of Ready to Work earns a voucher for up to 4 CREDIT HOURS at any Community College in the state of Alabama.
The Ready to Work (RTW) program is a free basic job training program available to Alabama residents.
Upon successful completion of the RTW program, graduates will receive two industry recognized credentials:
National Career Readiness Certificate – issued by ACT
Alabama Certified Work Certificate – issued by AIDT
The Ready to Work core curriculum consists of 6 training modules and ACT WorkKeys. All curriculum modules, including ACT WorkKeys, are structured to reinforce the essential skills of reading, writing, listening, speaking and arithmetic.
The course includes lessons in:
Basic Education
Applied Mathematics
Reading for Information
Locating Information
Communication Skills
Computer Skills
Introduction to Computers
Microsoft Office
Problem Solving
Time Management
Decision Analysis
Problem Solving
Conflict Resolution
Workplace Behavior
Diversity
Sexual Harassment
Workplace Violence
Team Member Training
Work Ethics
Manufacturing
Precision Measurement
Principles of Quality Manufacturing
Lean/ JIT Manufacturing
Workplace Safety
Job Acquisition
Applications
Resumes
Interviews
This program is available to all Alabama residents who are not currently enrolled in school and are currently seeking employment or considering returning to school. For enrollment information and class schedules, please call the Center for Professional Development at (251) 990-0445.