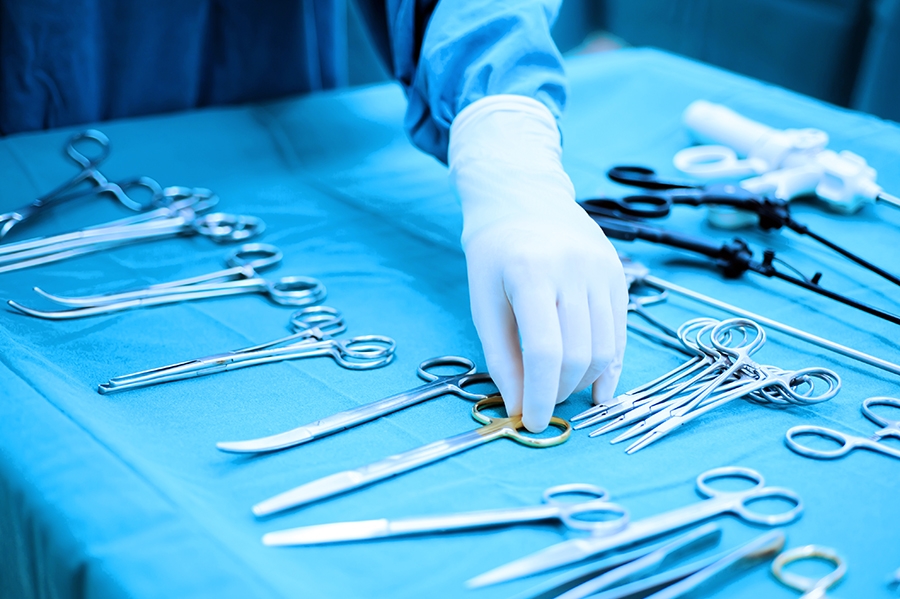 Surgical Technology (AAS-SUR)
Program Location: Bay Minette Campus
Nursing and Allied Health Division
Length: Five-Six Semesters
This program is designed to prepare competent entry-level surgical technologists for employment as members of the surgical team in any surgical facility setting. Program instruction includes cognitive, psychomotor, and affective learning domains. Students may obtain their Certification as a Surgical Technologist after successful completion of this program and upon passing the national certification examination. Students will relate theoretical knowledge to the care of patients undergoing surgery and will develop skills necessary to prepare supplies, equipment, and instruments; maintain aseptic conditions; and assist surgeons with surgical procedures. Employment opportunities may be attained in labor/delivery departments, inpatient/outpatient surgery centers, hospital surgery departments, physicians' offices, and central supply departments.
ADMISSION REQUIREMENTS:
Admission is for fall semester of each year. A separate surgical technology application is due by July 15 for fall enrollment. To be eligible, applicants must: 1. Be unconditionally admitted to the College and be an active student in good standing (Minimum 2.0 GPA) 2. Submit all transcripts to the registrar or admissions by application deadline 3. Submit completed Surgical Technology Program Application by stated deadline 4. Complete or be in the process of completing the following five required general education courses with a grade of C or higher; ENG 101, MTH 100 or more advanced, BIO 201, BIO 202 or 220, and a Humanities elective (note ORI 101 is required of first time college students and BIO 103 is prerequisite to the Anatomy's unless the student has had other Biology coursework or a certificate/degree in a health-related field that may allow for a waiver of the BIO 103 requirement 5. Meet essential eligibility criteria
Completion of the above requirements does not guarantee admission into the program. There is a class size limit of 24 students. Prospective students are rank ordered using a point system to determine acceptance into the program.
Students are selected based on the following point system:
1. 3 points for an A, 2 points for a B, and 1 point for a C in MTH 100, ENG 101, BIO 201, BIO 202, and BIO 220 2. 1 point for a C or higher in PSY 200 or 210, SPH 106 or 107, and a Humanities elective such as Art or Music Appreciation, Theater, Ethics, Philosophy, Religion, or foreign language 3. 10 points for GPA of 3.1-4.0, 5 points for a GPA of 2.1-3.0, O points for GPA 2.0 or less 4. 1 point for Chemistry or an advanced Math
After accepted into the program, students are required to provide the following: drug screen, background checks, physical exam showing ability to meet essential eligibility criteria (as outlined in the surgical technology application), CPR, proof of medical insurance and records of immunizations.
The courses listed in the below degree plan are required for an Associate in Applied Science Degree. Students are eligible to take the certification exam and work as surgical technologists upon completion of the degree. A minimum of a 'C' is required in all program courses including the required general education courses in order to progress in the program.
This is a career program designed for students to go directly into the labor market upon completion. Although some of the courses in this program will transfer to four-year institutions, this program is not designed to be a transfer program of study; therefore, it is not subject to the terms and conditions of STARS.
Semester One
ORI 101 will be required for those without prior college coursework as specified in the College Catalog. Principles of Biology, BIO 103, is a pre-requisite for Anatomy & Physiology I which is a pre-requisite for program admission. (Contact the Biology Division Chair to determine if the requirement for BIO 103 may be waived). MTH 116, Mathematical Applications, does not meet the minimum requirement for Math.
Semester Two
SPH 106 or 107 fulfills the Speech requirement.
Semester Three (Fall)
BIO 202 to be taken this semester, if not already completed.
Item #
Title
Credits
SUR 100
Principles of Surgical Technology
5
SUR 102
Applied Surgical Techniques
4
SUR 103
Surgical Procedures
5
SUR 108
Pharmacology for the Surgical Technologist
2

Sub-total Credits

16
Semester Four (Spring)
Item #
Title
Credits
SUR 104
Surgical Practicum I
4
SUR 105
Surgical Practicum II
5

Sub-total Credits

9
Semester Five (Summer)
Item #
Title
Credits
SUR 106
Role Transition in Surgical Technology
1
SUR 205
Surgical Practicum IV
5
SUR 210
Special Topics in Surgical Technology
2

Sub-total Credits

8
GRAND TOTAL CREDITS
60
*Depending on the program or course, a student may also be required to purchase certain necessary tools and supplies.
Program Outcomes Assessment Rates
| Item | 2017/2018 | 2018/2019 | 2019/2020 | 2020/2021 | 2021/2022 |
| --- | --- | --- | --- | --- | --- |
| Certification Pass | 57% | 70% | 100% | 100% | 100% |
| Employment | 100% | 100% | 100% | 100% | 100% |
Surgical Technology
Surgical Technology Files
Name
File Type
Surgical Technology Application Packet

Thank you for your interest in the Surgical Technology Program at Coastal Alabama Community College. For your convenience, please find enclosed in the application packet information regarding the program, as well as an application for admission to the Surgical Technology
Program.
Surgical Technology
Surgical Technologists work in hospital operating rooms, outpatient centers, outpatient clinics, surgery centers, and private offices. There is a high demand for surgical technologists in the Mobile, Baldwin, and Pensacola areas. Graduates have a 100% job placement rate. Surgical Technology is a great career choice!
Surgical technologists work with the surgical team to assist the surgeon with surgical procedures. The surgical technologist is responsible for setting up a sterile field; gowning and draping the patient and surgeons; and passing instrumentation, equipment, suture, medications, etc. to the surgeon as needed for the procedure.
Students learn principles of asepsis and sterility, microbiology, pharmacology, responsibilities of the surgical team, surgical anatomy, and the role of the surgical technologist. Students are taught instrumentation, equipment, supplies, suture, and medications commonly used in surgical procedures as well as learning how to set up and perform surgical procedures in a mock surgical suite on the Bay Minette campus.
Progression Policy
To continue in the surgical technology program, the student must:
Maintain a C or higher in all courses required in the surgical technology program, including general education courses. (This is the only change for this section).
Complete all required general educational courses in semesters as scheduled, unless completed prior. Any exceptions must be approved by the Director of Nursing and Allied Health.
Maintain the ability to perform essential eligibility criteria.
Maintain current, health professional CPR, required immunizations, and medical insurance.
Maintain the sequence of surgical technology courses. Withdrawals, or a 'D' or 'F' in a surgical technology course, will stop progression in the program until the course(s) is successfully repeated. Course repetition will be based on instructor approval and program resources.
Students will complete the required clinical rotation surgical cases and hours.
Students must adhere to clinical facility and program policies and procedures.
Students must maintain professional, ethical standards and professional patient care.
Failure to meet any of the above requirements may result in failure of a course or termination from the program
DISMISSAL
Students dismissed from the program for disciplinary reasons and/or unsatisfactory lab or clinical performance will not be allowed readmission to the surgical technology program.
REINSTATEMENT
Students whose progress was interrupted and who desire to be reinstated in the program must follow the following procedure:
Submit a request for reinstatement to the surgical technology program
Submit the request prior to a year from the withdrawal or failure. Reinstatement will not be granted if more than a year has transpired.
Demonstrate competency in all previous surgical technology coursework as shown by successfully passing instrumentation tests, competency tests, and mock surgical procedures.
Adhere to all policies and procedures effective at the point of reinstatement
A student may be readmitted only once.
Reinstatement to the surgical technology program is not guaranteed. Reinstatement may be denied due to, but not limited to, any of the following:
Unavailability of clinical space
Grade point average less than 2.0 at current institution
Refusal by clinical agencies to accept the student for clinical experiences
Failure to demonstrate competency in previous surgical technology coursework
More than a year having elapsed since last enrollment in the surgical technology course. This requires reapplication for the entire program.
Failure to adhere to program policies and procedures
Dismissal from the program
Failure to handle sharps in a safe manner in the lab or clinical setting
Behaviors considered as unprofessional in the clinical practice, whether observed by the faculty or reported by a credible other. These include, but are not limited to:

Breach of confidentiality
Failure to follow the policies of the clinical agency or surgical technology program
Falsification of records
Any act(s) considered unsafe practice
Unprofessional behavior or acts such as disrespect for the dignity or rights of the client or others
Any behavior that reflects impairment of judgment and/or ability to provide safe and competent care.
Locations:
Bay Minette Campus
1900 Highway 31 South
Bay Minette, AL 36507