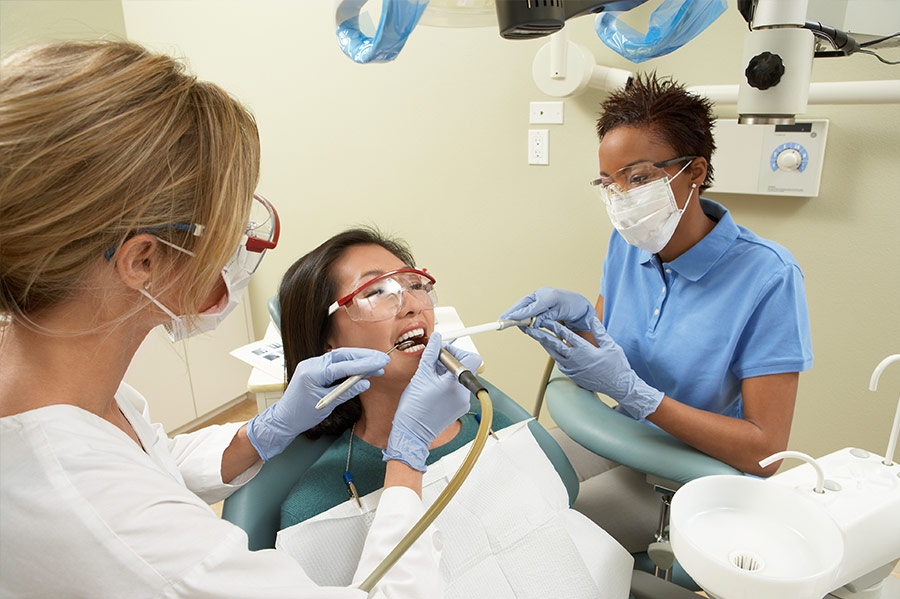 Dental Assisting (with Certificate Option) (AAS-DAT)
Dental Assisting Program Applications must be submitted by July 1st at 5:00 pm CST
View Application
>
Program Location:
Bay Minette Campus
Nursing and Allied Health Division
Length: Five Semesters (A.A.S. Degree); Three Semesters (Certificate)
This program prepares individuals to assist with the care of dental patients under direct supervision of a dentist. Dental assistants help with the provision of patient care, business office administration and laboratory procedures. Dental assistants hold a vital role in the dental healthcare team. Responsibilities include recording patient's dental and health history, taking and recording vital signs, patient reassurance, treatment and instrument preparation, mixing and transferring dental materials, processing and sterilizing instruments, maintaining infection control, maintaining inventory control, exposing and processing radiographs, dental equipment maintenance, and providing patients pre-op, post-op, and oral hygiene instructions. The program is accredited by the Commission on Dental Accreditation and currently holds the status of "approval without reporting requirements." Students are required to take the Dental Assisting National Board Infection Control Exam, the Radiation Health and Safety Exam, and General Chairside Exam.
PROGRAM EXPECTATIONS:
Students are expected to comply with the guidelines established in both the Allied Health and Dental Assisting Program policy manuals. These policies are listed on the Dental Assisting web page.
PROGRAM COSTS:
Refer to the Dental Assisting Program on Coastal Alabama's website at www.CoastalAlabama.edu for a complete list of costs.
ADMISSION REQUIREMENTS:
Meet all the general admission requirements of Coastal Alabama.
Eligibility for ENG 101 and MTH 116/098 according to ACT or placement exam scores, if courses have not already been completed.
Minimum cumulative GPA of 2.3 for the last 24 credit hrs of college coursework, or minimum cumulative GPA of 2.5 high school without college coursework. The GED equivalent is 2.5.
Submit official transcripts from all colleges attended and high school, or GED to admissions before July 1.
Submit Dental Assisting Program application with unofficial transcripts to program director by July 1 @ 5:00 pm CST.
Upon acceptance and no later than the scheduled Dental Assisting Program orientation, the completed Dental Assisting form and Immunization form must be submitted. No blue cards accepted. Also, a copy of a current healthcare provider CPR card and consent to random drug testing and background check must be provided at mandatory Dental Assisting Program orientation. (TBA, usually the 3rd week of July).
Submit required form for observation of a dental assistant completing duties at a dental office.
SELECTION:
There are 24 available spaces. If over 24 qualified applications are received, in addition to the above, points will be awarded for ENG 101, MTH 116 (or higher level Math), PSY 200, and SPH 106 or 107. In the event of a tie, additional points will be awarded for a Fine Arts Elective, CIS 146, BIO 103, and SOC 200.
DEGREE:
A certificate is awarded upon completion of the DAT courses, ENG 101, MTH 116 (or higher level Math), PSY 200, and SPH 106 or 107 for a total of 48 credit hours. Students may work as dental assistants after successful completion of the certificate. Additional requirements for the Associate of Applied Science Degree are a Fine Arts elective, CIS 146, BIO 103, and SOC 200.
This is a career program designed for students to go directly into the labor market upon completion. Although some of the courses in this program will transfer to four-year institutions, this program is not designed to be a transfer program of study; therefore, it is not subject to the terms and conditions of STARS.
SEMESTER ONE
ORI 101 may not be required for those with prior college coursework. MTH 100, 112, 113 or a higher level math may be substituted for MTH 116. SPH 106 may be taken in place of SPH 107. The courses listed for this semester are required for the Dental Assisting Associate Degree and Dental Assisting Certificate.
SEMESTER TWO
The courses listed for this semester are required for a Dental Assisting Associate Degree, and are not required for a certificate.
SEMESTER THREE
DAT 101 and DAT 102 procedures are taught to laboratory competence.
Item #
Title
Credits
DAT 100
Introduction to Dental Assisting
2
DAT 101
Pre-Clinical Procedures I
3
DAT 102
Dental Materials
3
DAT 103
Anatomy and Physiology for Dental Assisting
3
DAT 104
Basic Sciences for Dental Assisting
2

Sub-total Credits

13
SEMESTER FOUR
DAT 112 procedures are taught to clinical competence.
Item #
Title
Credits
DAT 111
Clinical Practice I
5
DAT 112
Dental Radiology
3
DAT 113
Dental Health Education
2
DAT 116
Pre-Clinical Procedures II
3

Sub-total Credits

13
SEMESTER FIVE
Item #
Title
Credits
DAT 121
Dental Office Procedures
3
DAT 122
Clinical Practice II
4
DAT 126
Dental Assisting Seminar
3

Sub-total Credits

10
GRAND TOTAL CREDITS
62
*Depending on the program or course, a student may also be required to purchase certain necessary tools and supplies.
Dental Assisting
Dental assistants provide patient care, take x rays, keep records, and schedule appointments. Dental hygienists examine patients for signs of oral diseases, such as gingivitis, and provide preventive care, including oral hygiene. Coastal Alabama currently offers a Dental Assisting program.
Fall semester each year (August).
No, only after acceptance and prior to DAT orientation.
If you are a first-time college student, it is recommended that you take English 101, Psychology 200, Math 100 or higher, and Speech 107 prior to entry. The courses to acquire an Associate Degree may be taken up to one year after the successful completion of the certificate.
Community doctors and assistants typically notify program instructors when employment opportunities are open. There are several dental Facebook sites that post jobs as well.
The average hourly entry wage in our area is $15.00 - $17.00 an hour, depending on your level of expertise and recommendations.
Anticipated Expenses
The following is an approximation of expenses for completion of the dental assisting program.
Item
Cost
In-State Tuition and Fees
* (for three semester certificate including gen ed courses)
$7,840
Liability Insurance includes ADAA membership (on-line purchase)
$55
Clinical Lab Coat, Uniform and Shoes (need generics for class)
$265
Materials Supply Kit (through designated dental supply co)
$400
Textbooks and workbooks (for DAT program only)
$900
Immunizations and Physical (from physician's office)
$250
CPR Instruction (Must be hands-on Healthcare Provider)
$50
Background Check (to be paid on-line in the fall)
$85
Drug Testing x1 (more if tests if + results to be paid in fall)
$65
DALE Foundation Practice Tests (on-line purchase)
$120
Other (Dental Assisting Nat'l Board Test)
$800
Graduation Fees
$65
Total
$10,895
*Tuition does not reflect the 13 additional hours required for the AAS degree or any remedial courses taken prior to program acceptance. In state tuition/fees are 160.00 per credit hour.
Locations:
Bay Minette
1900 Highway 31 South
Bay Minette, AL 36507