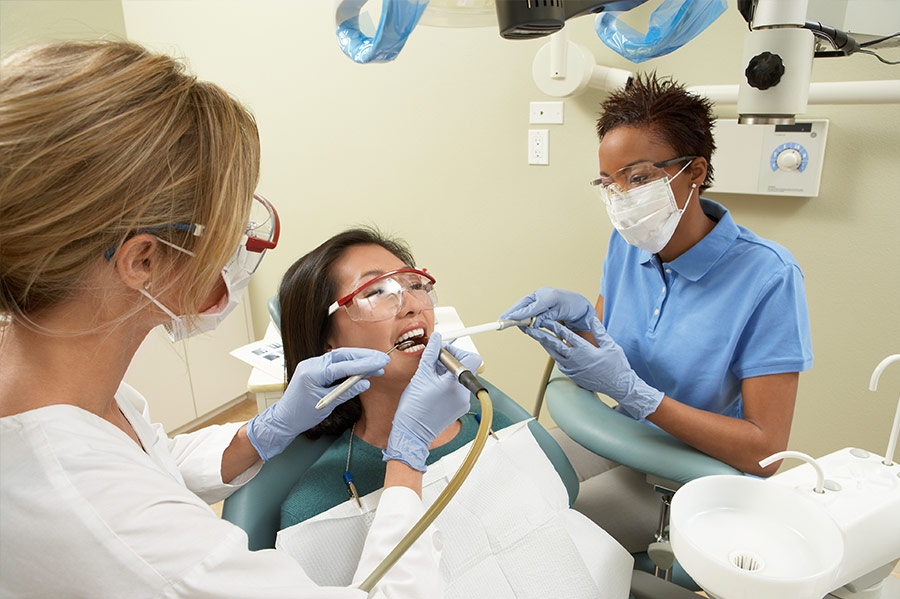 Dental Assisting (with Certificate Option) (AAS-DAT)
Dental Assisting Program Applications must be submitted by July 15 at 5:00 PM CST
View Application
>
Program Location:
Bay Minette Campus
Nursing and Allied Health Division
Length: Five Semesters (A.A.S. Degree); Three Semesters (Certificate)
This program prepares individuals to assist with the care of dental patients under direct supervision of a dentist. Dental assistants help with the provision of patient care, business office administration and laboratory procedures. Dental assistants hold a vital role in the dental healthcare team. Responsibilities include recording patient's dental and health history, taking and recording vital signs, patient reassurance, treatment and instrument preparation, mixing and transferring dental materials, processing and sterilizing instruments, maintaining infection control, maintaining inventory control, exposing and processing radiographs, dental equipment maintenance, and providing patients pre-op, post-op, and oral hygiene instructions. The program is accredited by the Commission on Dental Accreditation and currently holds the status of "approval without reporting requirements." Students are required to take the Dental Assisting National Board Infection Control Exam, the Radiation Health and Safety Exam, and General Chairside Exam.
ADMISSION REQUIREMENTS:
Meet all the general admission requirements of Coastal Alabama.
Eligibility for ENG 101 and MTH 116/098 according to ACT or placement exam scores, if courses have not already been completed
Minimum cumulative GPA of 2.3 for the last 24 credit hrs of college coursework, or minimum cumulative GPA of 2.5 high school without college coursework. The GED equivalent is 2.5
Submit official transcripts from all colleges attended and high school, or GED to admissions before July 15
Submit Dental Assisting Program application with unofficial transcripts to program director by July 15 at close of business
Upon acceptance and no later than the scheduled Dental Assisting Program orientation, the completed Dental Assisting form and Immunization form must be submitted. No blue cards accepted. Also, a copy of a current healthcare provider CPR card and consent to random drug testing and background check must be provided at mandatory Dental Assisting Program orientation.
Submit required form for observation of a dental assistant completing duties at a dental office.
SELECTION:
There are 24 available spaces. If over 24 qualified applications are received, in addition to the above, points will be awarded for ENG 101, MTH 116 (or higher level Math), PSY 200, and SPH 106 or 107. In the event of a tie, additional points will be awarded for a Fine Arts Elective, CIS 146, BIO 103, and SOC 200.
DEGREE:
A certificate is awarded upon completion of the DAT courses, ENG 101, MTH 116 (or higher level Math), PSY 200, and SPH 106 or 107 for a total of 48 credit hours. Students may work as dental assistants after successful completion of the certificate. Additional requirements for the Associate of Applied Science Degree are a Fine Arts elective, CIS 146, BIO 103, and SOC 200.
This is a career program designed for students to go directly into the labor market upon completion. Although some of the courses in this program will transfer to four-year institutions, this program is not designed to be a transfer program of study; therefore, it is not subject to the terms and conditions of STARS.
SEMESTER ONE
ORI 101 may not be required for those with prior college coursework. MTH 100, 112, 113 or a higher level math may be substituted for MTH 116. SPH 106 may be taken in place of SPH 107. The courses listed for this semester are required for the Dental Assisting Associate Degree and Dental Assisting Certificate.
SEMESTER TWO
The courses listed for this semester are required for a Dental Assisting Associate Degree, and are not required for a certificate.
SEMESTER THREE
DAT 101 and DAT 102 procedures are taught to laboratory competence.
Item #
Title
Credits
DAT 100
Introduction to Dental Assisting
2
DAT 101
Pre-Clinical Procedures I
3
DAT 102
Dental Materials
3
DAT 103
Anatomy and Physiology for Dental Assisting
3
DAT 104
Basic Sciences for Dental Assisting
2

Sub-total Credits

13
SEMESTER FOUR
DAT 112 procedures are taught to clinical competence.
Item #
Title
Credits
DAT 111
Clinical Practice I
5
DAT 112
Dental Radiology
3
DAT 113
Dental Health Education
2
DAT 116
Pre-Clinical Procedures II
3

Sub-total Credits

13
SEMESTER FIVE
Item #
Title
Credits
DAT 121
Dental Office Procedures
3
DAT 122
Clinical Practice II
4
DAT 126
Dental Assisting Seminar
3

Sub-total Credits

10
GRAND TOTAL CREDITS
62
*Depending on the program or course, a student may also be required to purchase certain necessary tools and supplies.
Dental Assisting
Dental assistants provide patient care, take x rays, keep records, and schedule appointments. Dental hygienists examine patients for signs of oral diseases, such as gingivitis, and provide preventive care, including oral hygiene. Coastal Alabama currently offers a Dental Assisting program.
Fall semester each year (August).
No, only after acceptance and prior to DAT orientation.
If you are a first-time college student, it is recommended that you take English 101, Psychology 200, Math 100 or higher, and Speech 107 prior to entry. The courses to acquire an Associate Degree may be taken up to one year after the successful completion of the certificate.
Community doctors and assistants typically notify program instructors when employment opportunities are open. There are several dental Facebook sites that post jobs as well.
The average hourly entry wage in our area is $15.00 - $17.00 an hour, depending on your level of expertise and recommendations.
Anticipated Expenses
The following is an approximation of expenses for completion of the dental assisting program.
Item
Cost
In-State Tuition and Fees
* (Three-semester certificate including general education courses)
$8,036

Associate in Applied Science

(Five-semester degree)

$10,168
Liability Insurance includes ADAA membership (Online purchase)
$45
Clinical Lab Coat, Uniform, and Shoes (Need generics for class)
$265
Materials Supply Kit (Through designated dental supply co)
$650
Textbooks and workbooks (For DAT program only)
$900
Immunizations and Physical (From physician's office)
$250
CPR Instruction (Must be hands-on Healthcare Provider)
$50
Background Check (To be paid online in the Fall)
$70
Drug Testing x1 (More if tests if + results to be paid in Fall)
$35
DALE Foundation Practice Tests (on-line purchase)
$120
Other (Dental Assisting Nat'l Board Test)
$800
Graduation Fees
$25
Total Certificate
$11,256
Total Associate in Applied Science
$13,388
In-state tuition/fees are 164.00 per credit hour.
*Please note: Students are responsible for all expenses during clinical externship.
Allied Health Division Clinical Policies
The following policies are applicable to all Health Division programs at Coastal Alabama Community College. Any breach of these policies may lead to failure of the course in which the student is registered; dismissal from the program; dismissal and/or expulsion from the Health Division or College based on the severity of the breach.
All Health Division students are held to the professional, legal, and ethical parameters of the Health Information Privacy and Accountability Act (HIPAA). Breaches of confidentiality of patient information of any kind will not be tolerated (conversation with unauthorized others about a patient, photocopy of chart or protected documentation, taking pictures with a camera of any kind, sharing information with another clinical facility).
Falsification of any documentation by a Health Division student (ie. application, submission of transcripts, drug testing results, physical exam findings, background check, CPR certification, other) will not be tolerated.
Falsification of any patient documentation by a Health Division student (ex: charts, flow sheets, medication administration records, others) will not be tolerated.
Thievery from the patient or family, the agency, professional colleagues, fellow students by a Health Division student will not be tolerated.
Students who are deemed clinically incompetent will be removed from the clinical area. Repercussions are dependent on review of the allegations, demonstration by the student of the skills at the expected level of performance, and evaluation of the student's progress in the program. Repercussions are at the discretion of the reviewer(s).
All Health Division students are expected to behave professionally and ethically. Disruptive behavior or language toward patients/family, professional staff or other students (profanity, sexually explicit language or innuendoes, threats to physical or mental safety) will not be condoned.
Students must be aware that the clinical agency has the contractual right to prohibit a Health Division student from being placed at the agency. If the program is unable to place the student for completion of course or program requirements, the student will be required to withdraw (or will be administratively withdrawn) from the course/program.
Students are required to reveal any personal issues which would prohibit their placement at a particular agency. These issues may include but are not limited to previous dismissal from employment at the specific agency, legal issues involving the student or his/her significant others which are outstanding against an agency or practitioner of the agency, or monetary issues involving the agency (garnishments, law suits, etc.).
Students are prohibited from attending clinical unless or until medical clearance required by the program has been submitted. This includes but may not be limited to physical exam, drug testing, and validation of immunity by acceptable documentation of immunization or titer levels, and hepatitis B immunization or waiver. Clinical agencies have the right to deny access to the facility based on refusal of immunization by the student.
All Health Division students must submit to initial and continuing drug testing at specified intervals, for cause, or at random. Should the student refuse to abide by agency/ CA policy he/she will be administratively withdrawn from the course and may be denied readmission to the same or any other Health Division program.
All Health Division students must have submitted the initial background and yearly (if required) background check. Should a legal incident occur in which the student is involved, the student has 48 hours to disclose the incident to the program director, course coordinator, Departmental Director, or Dean of Nursing and Allied Health in the absence of the instructor, program director, or Departmental Director.
All Health Division students must be CPR certified at the Healthcare Provider level and must maintain certification while enrolled in the program. Failure to do so may prohibit the student from completing the clinical assignments and therefore failure in the course.
All Health Division students must attend assigned clinical agency orientation (For Public Health Facilities only) appropriate to the clinical assignment. Failure to do so may prohibit the student from completing the clinical assignment and therefore failure in the course.
All students are required to have a photo identification badge to utilize clinical agencies. Photo IDs will be scheduled by the faculty during the first program course. The student may be responsible for the cost of the photo ID and any replacement. Students may be dismissed for the day from the clinical experience l if he/she does not have the ID badge in full sight while in the clinical agency.
Wearing the CA program uniform or badge is prohibited except for assigned clinical experiences in assigned clinical agencies. Breaches such as wearing the uniform for employment or any nefarious, illegal or unethical purpose will not be condoned.
Students are assigned to clinical agencies by the program director, clinical coordinator or designee. Students are not permitted to make individual contacts with agencies for clinical arrangements unless expressly directed to do so by the program director, et. al.
Students receiving medical care that is not documented on the health and physical form are required to submit documentation from their healthcare provider indicating they may participate in program-related activities/clinicals without limitations. It is the student's responsibility to notify faculty/staff of health-related changes that may impact the ability to safely participate in Coastal Alabama's health-related programs.
The program director reserves the right to request that any student submit to reexamination by an approved health care provider if deemed appropriate.
Health care facilities agree to provide emergency health care with the cost of all such care being the responsibility of the student.
No alcoholic beverages or drugs which may cause cognitive impairment will be consumed during clinical rotations or up to 12 hours prior to rotations. Any evidence of alcohol or drug use while on rotations or evidence of impairment due to drugs/alcohol prior to starting the clinical assignment will result in sending the student for a drug test for cause and if positive, immediate suspension from the rotation site. The impaired student will only be allowed to leave with a designated driver.
The student will not communicate unprofessionally (argue, solicit professional advice for an illness or disability, other) with any physician, nurse, fellow student, staff member, or preceptor during rotations.
The ultimate responsibility for patient care lies with the staff of the rotation site. If a conflict arises between the student and anyone at the rotation site the student will immediately retire from the conflict and notify the Clinical Coordinator or Clinical instructor as soon as possible or no later than at the completion of the shift.
Students will practice standard precautions during all patient care and handling of patient care equipment regardless of the situation.
Students are not allowed to access any personal electronic communication devices in the clinical area. Cell phones, personal computers, personal tablets, and all other devices must be left in in a bag and turned off. The clinical supervisor (instructor, preceptor) or the clinical contact identified by the program director is the emergency contact for the student's family or significant other. Breach of this policy will result in the student being dismissed from the site for the rest of the clinical day and the student will be considered absent under the program absence policy.
Coastal Alabama Community College Dental Assisting Program Goals
Program Goal #1: Students will be proficient in knowledge and skills required for effective chairside assisting and dental office business procedures (Determined by results of clinical evaluations and results of DANB General Chairside Exam).
Program Goal #2: Students will be proficient in knowledge and skills required for effective radiation exposure, operator and patient safety (Determined by results of clinical evaluations and results of DANB Radiation Health and Safety Exam).
Program Goal #3: Students will be proficient in knowledge and skills required for infection control management, patient, community, and operator safety (Determined by results of clinical evaluations and results of the DANB Infection Control Exam).
Program Goal #4: 90% of students who are seeking employment in dental assisting will be employed within 9-12 months of graduation.
Program Goal #5: At least 75% of the dental assisting students admitted to a cohort will graduate.
Dental Assisting Program Student Learning Outcomes
ROLE AS A PROVIDER OF CARE
Demonstrates cognitive competence by assuming responsibility for own learning, by obtaining and applying theoretical knowledge to clinical practice, and by applying concepts of beginning or basic problem solving to clinical decision making.
Demonstrates psychomotor competence through appropriate, skillful use of basic equipment and manual technique to provide therapeutic interventions and therapies according to established ADA standards.
Demonstrate psychosocial competence through interactions/relationships that promote achievement of goals yet affirm the worth of all individuals involved. Establishes effective verbal and nonverbal communication with patients, families, and health care progessionals and function according to the professional code of legal and health care professionals and function according to the professional legal and ethical standards.
Applies the dental assisting process by assessing basic physical, mental, emotional, spiritual, socio-cultural, educational and environmental needs of patients to establish a data base and identify common, well defined dental health problems.
Contributing to the identification of dental health care needs, diagnoses and outcomes, based on the identified health problems of individual patients.
Under the supervision of a licensed dentist, organizes a plan for dental care based on the priority of the patient's needs/problems, principles of safety, level of prevention and delivery setting.
With guidance, evaluates outcomes based on patient progress. Uses basic problem solving skills and collaborates with other members of the health care team in the revision of such outcomes.
ROLE AS A DENTAL HEALTH CARE MANAGER
Demonstrates role recognition by differentiation between roles and responsibilities of members of the dental care team in various dental specialties.
Demostrates basic organizational skills by planning and by utilizing time appropriately and by acting efficiently in a goal directed manner.
Demonstrates beginning personnel management skills by understanding human limitations (both personal and professional), managing conflict, communicating to colleagues and other health personnel, committing to team work by helping others to provide care when necessary.
Demonstrates collaborative approach by working with the doctor and other members of the dental health care team to assess, plan, deliver and evaluate the quality of care. Interacts appropriately and respectfully with others from varying cultural, racial and ethnic backgrounds; recognize the need for assistance and request/follow advice of well considered authority.
ROLE AS A MEMBER OF DISCIPLINE
Demonstrates responsibility and accountability by honoring schedules and assignments, by promoting cost containment, by awareness of potential safety and/or legal concerns, and by reporting and intervening to alleviate problems when possible. Works as a member of the dental health care team by actions which promote the goal of the dental health care setting.
Advocate for the patient, when necessary, for basic care needs and safety concern.
Assumes responsibility for personal improvement by identifying strengths and weaknesses, and seeks education and/or help as needed.
Assumes responsibility for professional growth and improvement by identifying educational opportunities and consideration of career mobility.
Supports the purpose and goals of professional organizations and works to promote dental assisting and dental health care through political, economic, and societal activities.
Complies with the rules and regulations set forth by the Alabama Board of Dental Examiners Act and the guidelines as a student set forth by the American Dental Association Accreditation Board.
Locations:
Bay Minette Campus
1900 Highway 31 South
Bay Minette, AL 36507