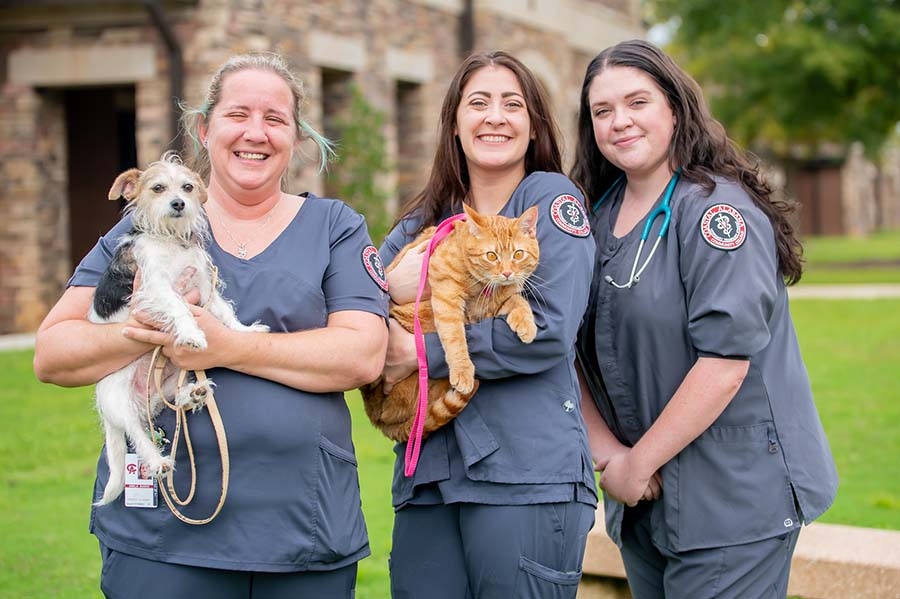 Veterinary Technology (AAS-VET)
What is a Veterinary Technician?
Have you always dreamed of a career helping animals? You can make that dream a reality through a career in Veterinary Technology. A veterinary technician works under the supervision of a licensed veterinarian to provide the doctor with technical support in the daily care of animal patients. Some of the responsibilities of a veterinary technician include: obtain and record patient case histories; collect specimens and perform laboratory procedures; provide specialized nursing care; prepare animals, instruments, and equipment for surgery; assist in diagnostic, medical, and surgical procedures; expose and develop radiographs (x-rays); advise and educate animal owners; supervise and train practice personnel; and perform dental prophylaxes. Veterinary technicians ensure that patients of all species, whether in a clinical practice or a zoo, receive the best possible care and attention.
After graduating from an accredited program with a 2-year Associate's degree or a 4-year Bachelor's degree, the student must pass a national credentialing examination and keep up-to-date with continuing education to be considered licensed/registered/certified (the term used varies by state) veterinary technicians.
While the majority of veterinary technicians are employed in private practice, the demand for technicians is rapidly expanding to include new employment opportunities. Veterinary Technicians may be employed in human and animal health-related areas and specialties such as military service, food safety inspection, teaching, zoo animal and wildlife care, diagnostic laboratory support, biomedical research, veterinary supply sales, animal control and humane society animal care, and drug and feed company technical service and sales.
Students interested in a career in veterinary technology should have an aptitude for general science, math and biology and demonstrate basic language and communication skills. Students should be aware that this career is both emotionally and physically demanding and most job situations require an employee to work evenings, weekends and some holidays.
Are you with a Veterinary Clinic? Visit our vet clinic resources page for more.
Accreditation
Coastal Alabama Community College is accredited by the Commission on Colleges of the Southern Association of Colleges and Schools to award Associate in Arts, Associate in Science, and Associate in Applied Science Degrees.
The CACC Veterinary Technology Program was awarded full accreditation by the American Veterinary Medical Association Committee on Veterinary Technician Education and Activities (AVMA CVTEA) Education and Research Division, in 2020. The next scheduled program accreditation review will be held in 2025.
Nursing and Allied Health Division
Length: Five Semesters
This program is designed to provide students the opportunity to acquire knowledge, skills and attitudes necessary to enter the Veterinary Technology services occupation as employees of veterinary offices and clinics. Upon completion of the program, students are eligible to sit for the licensure exam as administered by the American Association of Veterinary State Boards and the Alabama State Board of Veterinary Medical Examiners.
This program is offered online; however, students must come to campus at designated dates and attend weekly clinicals at approved veterinary facilities in Mobile and Baldwin Counties. Clinical sites outside of Baldwin or Mobile County must meet additional requirements. Admission is Spring Semester. A separate veterinary technology application is due by November 1 of the preceding year.
ADMISSION REQUIREMENTS:
1. Unconditional admission to Coastal Alabama and active student in good standing 2. Submit all transcripts to admissions 3. Submit Veterinary Technology Application by stated deadline 4. Complete or be in the process of completing the following four required general education courses prior to application deadline with a grade of C or higher; ENG 101, MTH 100, SPH 107, and BIO 103 5. Provide proof of medical insurance 6. Must be 18 years of age by the beginning of the fall semester in the program 7. Submit Veterinary Technician Job Observation and Interview Questionnaire 8. Submit the recorded statement of interest and intent included in the Veterinary Technology Application 9. Meet the essential eligibility criteria or technical standards required for veterinary technology
Completion of the above requirements does not guarantee admission into the program. Prospective students are rank ordered based on a point system to determine acceptance into the program.
Students are selected based on the following point system:
1. 30 points for an A, 20 points for a B, and 10 points for a C in ENG 101, MTH 100, and BIO 103 2. 10 points for a GPA of 3.1-4.0, 5 points for a GPA of 2.1-3.0, 0 points for GPA of 2.0 or less 3. Five points for an advanced Math, 5 points for BIO 201, and 5 points for BIO 202 with a C or higher 4. Five points for veterinary experience
Students must have access to a computer with high speed internet connection and video capabilities/web cam and provide own transportation to clinical sites. All VET courses must be completed with a grade of C or higher for satisfactory progression and graduation. This is a career program designed for students to go directly into the labor market upon completion. Although some of the courses in this program will transfer to four-year institutions, this program is not designed to be a transfer program of study; therefore, it is not subject to the terms and conditions of STARS.
The Veterinary Technology Program at Coastal Alabama Community College is accredited by the American Veterinary Medical Association (AVMA) Committee on Veterinary Technician Education and Activities (CVTEA).
Courses Required for Program Application
Please note that MTH 116, Mathematical Applications, does not fulfill the Math requirement. ORI 101, Orientation to College, is required for first time college students.
Item #
Title
Credits
BIO 103
Principles of Biology I
4
ENG 101
English Composition I
3
MTH 100
Intermediate College Algebra
3
SPH 106 or SPH 107 +
3

Sub-total Credits

13
Semester One (Spring)
Item #
Title
Credits
VET 110
Vet Tech Clinics I
2
VET 112
Introduction to Vet Technology
5
VET 114
Clinical Anatomy & Physiology of Animals
5
Social Science/History Elective (3 SH) +
3

Sub-total Credits

15
Semester Two (Summer)
Item #
Title
Credits
VET 120
Vet Tech Clinics II
3
VET 124
Clinical Procedures & Pathology
4
VET 236
Vet Microbiology & Parasitology
3
VET 242
Animal Nutrition and Laboratory Animals
3

Sub-total Credits

13
Semester Three (Fall)
Item #
Title
Credits
VET 126
Animal Diseases & Immunology
3
VET 230
Vet Tech Clinics III
3
VET 232
Anesthesia and Diagnostic Imaging
4
VET 234
Animal Pharmacology & Toxicology
3
Humanities and Fine Arts Elective (I) +
3

Sub-total Credits

16
Semester Four (Spring)
Item #
Title
Credits
VET 122
Vet Tech Emergencies & First Aid
5
VET 240
Vet Tech Clinics IV
3
VET 244
Seminar in Veterinary Technology
3
VET 250
Vet Tech Preceptorship
3

Sub-total Credits

14
GRAND TOTAL CREDITS
71
*Depending on the program or course, a student may also be required to purchase certain necessary tools and supplies.
What is the Expected Salary?
Nationwide, the Bureau of Labor Statistics reported that the median annual wage for veterinary technologists and technicians was $36,850 in 2021, which translates to $17.72 per hour. Required Education: Associate degree in veterinary technology. Licensure & Certification Requirements: Vet Techs must obtain state-issued credentials, which typically requires passing the Veterinary Technician National Exam (VTNE). Projected Job Growth (2021-2031): 20% for veterinary technicians and technologists. Median Salary (2021): $36,850 for veterinary technicians and technologists.
| Required Education | Associate degree in veterinary technology |
| --- | --- |
| Licensure & Certification Requirements | Vet Techs must obtain state-issued credentials, which typically requires passing the Veterinary Technician National Exam (VTNE) |
| Projected Job Growth (2016-2026) | 19% for veterinary technicians and technologists* |
| Median Salary (2017) | $33,400 for veterinary technicians and technologists* |
VTNE 3yr Pass Rate July 1, 2018, to June 30, 2021
VTNE Reporting to the Community
| Number of First-Time Candidates that have taken the VTNE | 35 |
| --- | --- |
| Three-year VTNE pass percentage | 77% |
Locations:
Bay Minette Campus
1900 Highway 31 South
Bay Minette, AL 36507